"I came to The Bridge very broken,
but I came here, I could worship, escape, and could be safely broken. I knew I couldn't do it alone. The Bridge impacted me because I was able to heal here safely. I could still connect to God, and it happened for me here. I am now a worship leader here at The Bridge and also connect to people through the business that I own."
"Thanks, kids, for changing my life
over, and over, and over again. All the B.O., farts, and sleepless nights were all SO worth it.
Jesus worked miracles through these kids this weekend. I forever will be changed by these young MEN."
"As a church, The Bridge has partnered with the community of Chadirac through an organization called The 410 Bridge. Chadirac is "graduating" and I was able to go and celebrate with them. When we first went to this community, they did not have clean water. People had gotten cholera from drinking the water that flowed from the top of the mountain. Many of the children were not able to attend school. The people of the community were unable to borrow to invest in their farms or small business ventures due to high interest rates.
All of this has now changed due to the partnership we (and a few other churches) had with them. Look at the number of students at the school that was built! The teachers in the school live in the community now instead of coming from the town at the bottom of the mountain. They have clean water. Over 1,500 people are in savings groups that make micro loans to each other and take care of each other during times of crisis. Discipleship is happening through storytelling in the mostly illiterate adult community. And they have started fish farms as a community and as individuals to help pay for the school on an ongoing basis! The Bridge will miss the beautiful people of Chadirac but we are excited about where God is leading them and will keep praying for them, knowing that they are also excited about where God is leading us and that they are praying for us, too."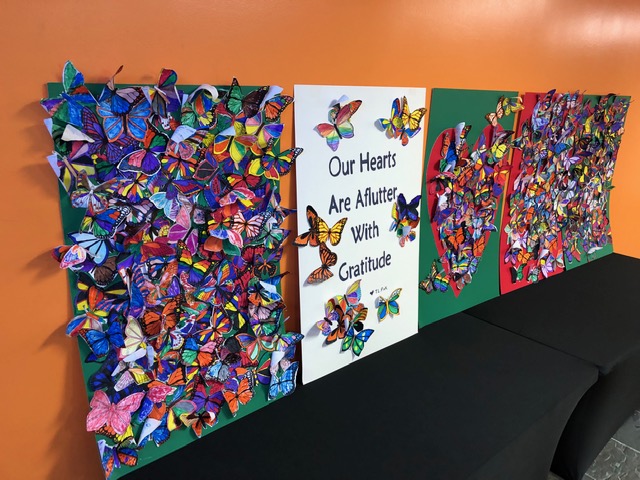 "It is hard to find a way to thank you for all you have done. Hallmark doesn't make a card big enough for 600 people to sign. Plus none of their cards can adequately describe our thankfulness. Our job as educators can be discouraging at times. We want to do more for the kids but we get stretched too thin and become tired. At that moment when we are tired and frustrated, a cheerful volunteer reader pops in - the faces of the students light up and the teacher sighs a sigh of relief. Everyone's spirit is lifted. Or we see a student who is really struggling at home, but we don't have time to really spend with him or her. And then the child's mentor shows up and we know that student will get loved on. It means so much to us and to the children.
Every child at Pink contributed to our "thank you" card by coloring a butterfly. That shows the number of lives you have touched at Pink. Our hearts are truly aflutter with gratitude." - Your Pink Family
"It's nice to have other people
with similar stories and to know you're not the "only one."
I am learning so much about the importance of GOD in my life. Thank you so much for having small groups!!"